My work in progress, I'll use this thread in a blog style to show our progress.
We plan to use the 15 acres to become self sufficient. We want to raise our kids on homegrown...food that is! So we have plans for fruit and nut trees, raised beds, free range chickens, rabbit hutches, a small bamboo forest, and a root cellar.
My wife and I broke ground last year on our house. We've got approximately 15 acres deeded to us on her parents farm that borders the Hiwassee River in East TN. For the house, it will have a full basement (24' X 36') with a bedroom, pantry, kitchenette (for future canning, for current cooking) and bathroom (we are living down there right now with our 7 year old!), a main level (24' X 36') with main bedroom, living space/kitchen, master bath and a "loft" (gambrel) room that will measure 16' X 18' for the boys. I plan for an 8" Rocket mass heater system and a solar hot water system. We have big plans! Did I mention we are doing this all debt free? So it's going to take some time. I've sub contracted out parts of the house, but we have done most of the work ourselves.
Onto the good stuff!
That's my wife, offering her assistance at clearing the old sawmill site for our house.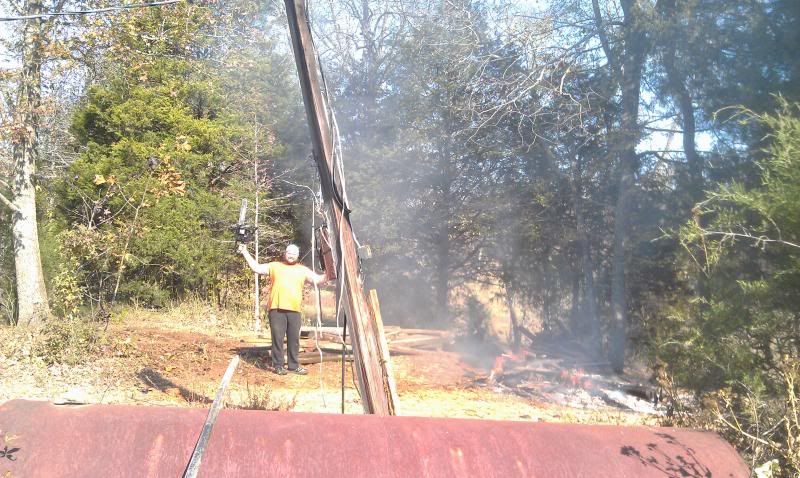 That crazy bearded dude is me!
Once we got all of the structure torn down and the old tanks, wagon and tractor safely moved out of the way, it was time to excavate. The cows are optional...
Big Hole in the ground!
Footing dug, rebar started
Time to pour!
This is proof that the Hiwassee is God's country, we have spectacular displays like this every other night or so.
I'll keep this updated as I can!