Well, I've not been posting as much about my place or projects lately, and I apologize for that. I've been crazy busy with projects around the place and with work, but I took some pictures yesterday to show you guys how I've been spending my free time these last few weeks. I've been constantly clearing to the south of the house since I moved in, but in the last few years I've finally gotten ruthless about it. I used to think I should leave the trees and take them as I could use them, but I learned that I was just sacrificing hours of sunlight in the early and late seasons by not getting them down. Last winter you may recall I took down quite a few trees, and worked on cleaning them up and processing them for firewood all summer.
Well, I did it again, and the more trees I take down the more I realize I have been living in the shade here for a long time. I still have some more to go, but man, it's so much work once they are down! I've got about a cord processed in the last week or so, and another cord bucked and in a shed waiting to be split. There are still 20 trees or so up on the hill, and everyday I use my truck to drag a few down, limb 'em, buck 'em, split 'em, stack 'em, burn the branches that are too small to keep. It's just a ton of work, but it's making a difference already. It was 60°F in the greenhouse yesterday and I've got greens and onions growing in there and they are doing great!
I'm also preparing for something really exciting by doing this. I worked about 40 hours over the last few weeks for a friend, wiring a new electrical system in his 5 ton military 6x6 so he can use it as an RV. He runs an excavation business, and has a whole lot of equipment, and needs a whole lot more wiring on all of his machines. I'm doing all the work for him in trade, so I've got at least a few day's worth of excavator work coming to me this spring once the heavy rains slow down. I'm so excited! So, part of the clearing is collecting cedar and fir poles for building. I'm going to have him create some water features for sure, ponds, swales, sun mounds, etc, and also level the building site I've been dreaming of on top of my hill. I'm thinking I'll have him help me set up some poles with the machine so I can get a roof up, and then I can start cobbing and putting in windows and make a little studio up there. It's a long term project, but I'm getting excited about it. I've been spending my evenings drawing water features and plans for a little studio. Fun!
Here's some pics....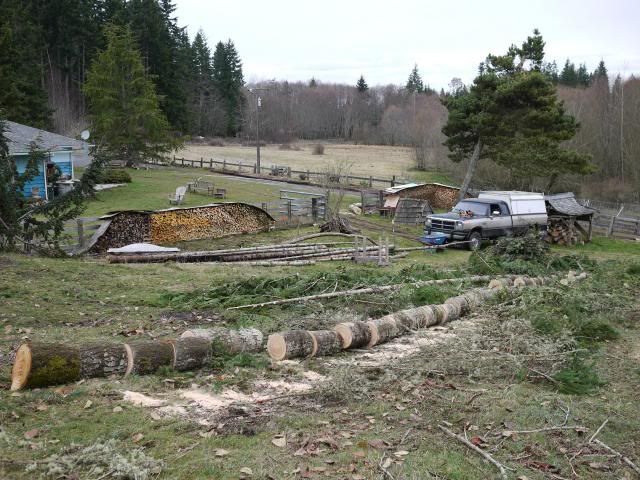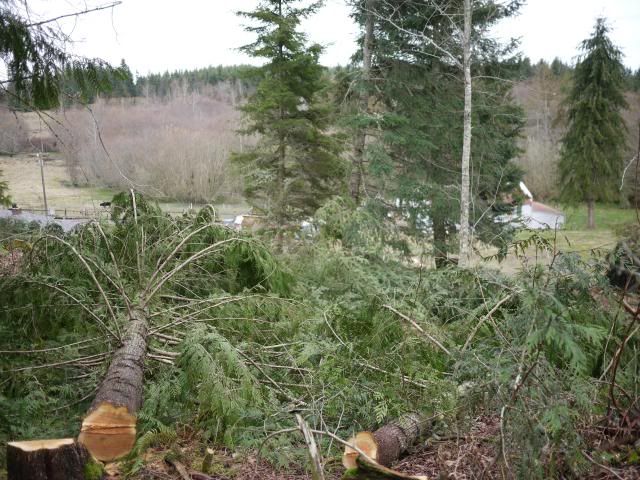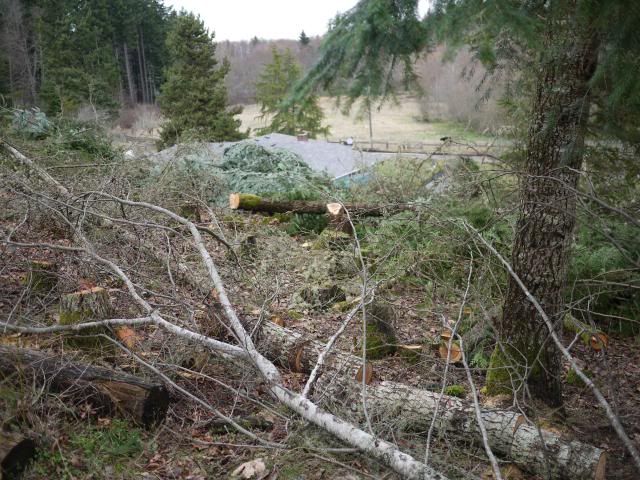 This one is looking up at what I've cleared, you can see where the studio will go up there on top of my little hill, where you can see the hint of a wood stack up there on the nose....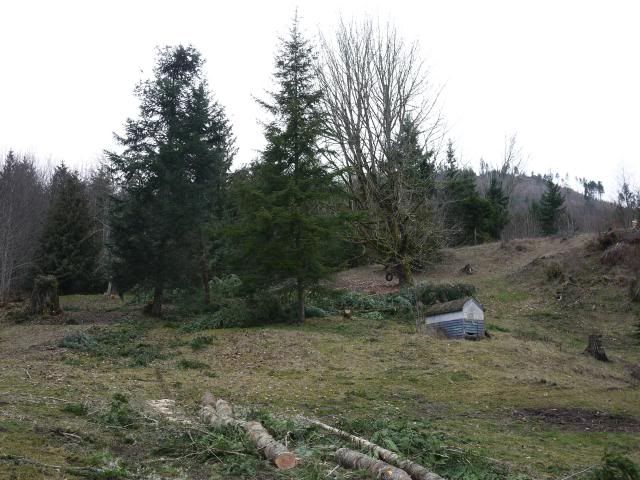 And here's the view from up there looking down at the place. In the background there is the water, the San Juans, Mt. Baker and so on, although you can only see white clouds over the Strait in this shot...