I've had a lot of projects going this winter and haven't posted about them all yet, but here's one I've been looking forward to sharing for a while.
My friend donated an old farm built splitter to my project in hopes that we could share the tools when I got them fixed up. Perfect!
I told him I'd try to get it running before tearing it up too much....well, that didn't last long.
I got it running, barely, and discovered it was going to need a bigger reservoir, new pump, etc, etc, etc, etc......I started with new carb for the little Honda, and it went on from there....
As I started thinking about a larger hydraulic reservoir, I started thinking the little axle it was on wasn't going to work any more, and I wanted to be able to tow it on the road to my friend's and such, since that was part of the deal. I started looking on Craig'slist and found this little beauty for $240. It's home built, all steel, and came with the work box, spare, all lighting and a clear title so it's licensed. Score. Here it is after I started cobbling together the splitter stand...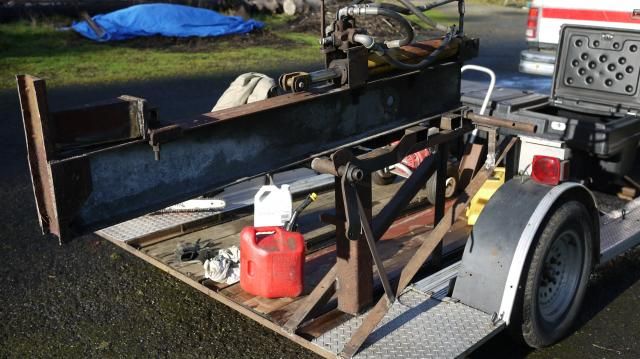 So stoked on it! I can put all my saws, saw tools, axes, lines and comealongs, protection gear, and so on, in the box. Tow it to my day's work site and I have everything I need. I started using it and realized it was the perfect thing to move the material to the stacks as well, and since it's a low deck I can walk on and off for unloading. So perfect! So, I built a wood box...
I LOVE this tool! Not just the splitter, but the whole thing. Moving wood is way, way easier on me. I used to load it into my high truck and have to climb in and out, or throw it out in a pile then pick it up again. This is a one shot deal, split it into the trailer, move the rig, walk on and off and stack. The splitter is awesome, although it needs some fine tuning. I ended up with only the Honda and beam/cylinder from the original unit, all else I bought new and built up. So, new pump, valve, coupler, filter arrangement, etc. I'm a bad fabricator, so this was a fun project to get me into the swing of things. The splitter goes vertically or horizontally, and I've had some big rounds to deal with lately so I love that aspect. I'll line up a bunch of rounds, set myself down on one of them and sit there and split up a half a cord without breaking a sweat. So great! I'm almost done with next year's wood, starting in on the following season this week!!