Greetings from the origin of civilization!
I'm working in NW Africa for a bit, promoting forest restoration as well as rocket stoves for cooking. Africa has an intense deforestation rate and the conversion to rocket stoves can have an incredible impact on both deforestation as well as the impacts from smoke from cooking on human health. The other great tangent to this project is teaching the techniques to native people gives them the opportunity continue this work as their own business, instead of other people doing it for them.
The basis is continuing Hpmers clay/ash core mix and incorporating this mix into Matt's cast core design. So first of all, thanks guys for all your work.
We started the rocket stove business by making some test cores out of the various materials available here. Our results came up with the same results as hpmer, with clay/ash working the best. We can dig loads of clay from a dried river and inevitably have to pound them to bits and sieve them. This is hard work, but we have 20-30 people (including 3 or 4 women) which come every day to learn. Ash we are making in barrels which are normally used for bio-char and we have an endless supply of palm stems burn for ash.
I should have started by saying that there is literally nothing available here. Nothing pre-made, no stove pipe, little steel, all tools are crude or hand made, little water, etc. We get by though. Actually, it's quite nice.
We have crafted a basic form from tomato sauce cans which are widely available in the trash, and equate to just slightly larger than 6":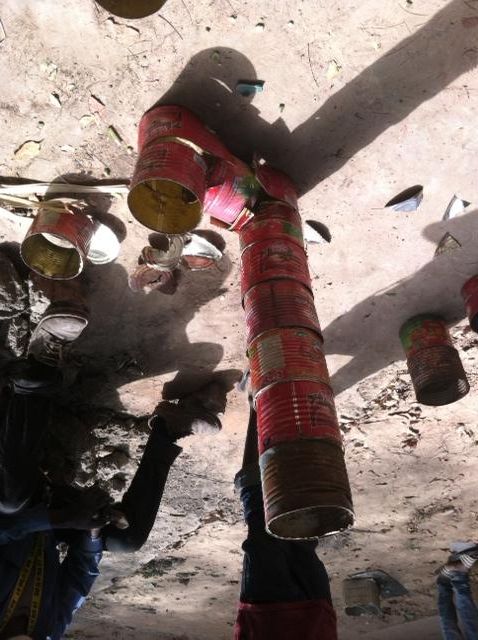 Where I am staying, we are creating two large cooking areas, copying Donkey's design here:
http://donkey32.proboards.com/thread/1301/all-adobe-mud-cookstoves-ovens
Here is the start, with a core on each end, and planning, from left to right, a cob oven, a hot water boiler, a griddle, and two pot burners: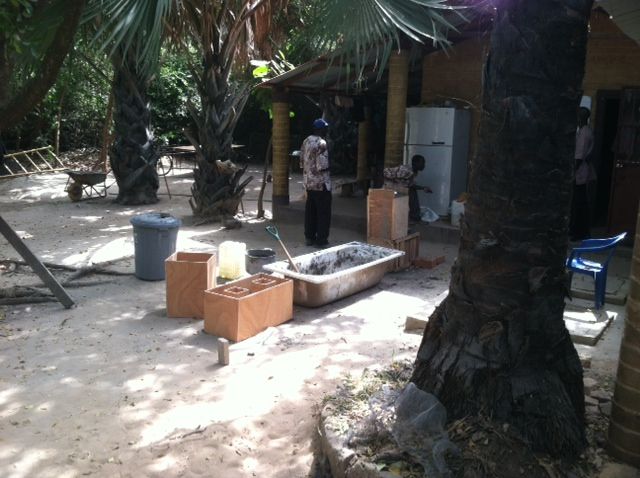 For this project we are making some plywood cores, though plywood is only available to wealthier people here. Here's our form building crew, we managed three core molds and a reusable outer form from a single sheet ($15us):
In the evenings I have been rebuilding an old derelict stove. It had sort of an L shape but was incredibly crude, the dimensions were all wrong, and it was made of metal. It turned into a little J, slightly under 5 inches. We gave it the first fire today and boiled potatoes in 16 minutes:
In the forest, we are planting an introduced tree species to become a community woodlot using the Gmelina arborea tree planted on a 3m x 3m spacing. Using some calculations, 1 hectare can provide fuel for 5000 people for a year, assuming a 10kg daily wood usage, and one stove feeding 15 people (which is the case here). A 20 ha planting can provide fuel in perpetuity, assuming 0% population growth, which is not realistic.
I hope to post more once I have better internet access, with better construction details of all the different stove builds, along with their performance.