I got some over stock " Delta T Crete Block mix" from Smart Ceramics for $15.00 per 30# bag. It looks like it has lots of vermiculite in it, it's max service temp is 1600 F and the density is 23# per cu ft. I figured it's good enough to experiment with for a 6" J. As I was building my mold I asked myself 2 questions, What would Mat do, ( he would be done and be cleaning the mud off by now) , What would Peter say, ( it's your heater please build it and share the results). Mat and Peter I hope I got your expected replies correct. I did deviate from the norm because I used what was on hand. Total mix for the core and riser was 90#. Here is the wood mold for the feed, tunnel and bottom of the riser.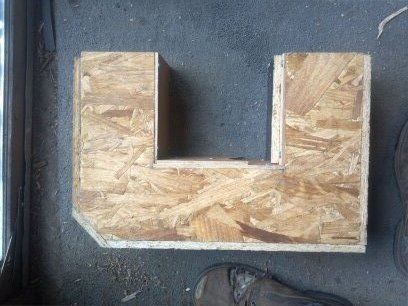 I used a 12" duct with 6" coffee cans to form the riser
It has a crude tripwire. I fit it into a piece of duct trunk that was to be thrown away. Here is the parts after mixing and lightly packing.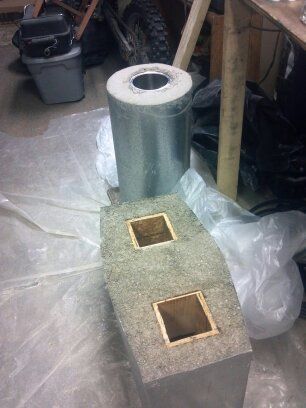 The drying did test my patience and after 4 days I burned out the inners of the mold.
I have a thin sheet metal P channel.
I put a drum and connected a chimney to it I am shocked that it lights with 2 pages from a magazine, drafts wonderful, lots of heat and goes smoke free in short order.
The material is rather fragile but strong enough so long as you don't jam wood into the feed. It's light enough at 45# per piece to be some what portable. And the base stays cool after hours of burning. There is 4.5" under the core. Total cost $ 45.00 plus dumpster diving.