Manny, that looks great. I have to say, I think you're doing a better job on yours than we did on ours. We had to make all kinds of mistakes to learn from. I wish we had put in linoleum as well, but we have a board floor, and I regret that every time I clean the coop. Other parts have worked out better, fortunately.
I have a some suggestions you might want to consider, if you haven't already thought of it. The first are for the nest boxes. If you put a perch-pole in front of the nests, so hens can jump up on the pole first, that will help them avoid barging into an already occupied nest. They'll likely do that a bit anyway, but if they land on the pole first, it could help minimize squabbling and egg breakage. The other is for your safety, opening the lid from the outside to get the eggs. You might want to rig a pulley and a rope to open the lid while you stand back. We've encountered snakes in nest boxes several times, once it was a copperhead, my DH narrowly missed being struck by it.
I'm sure you've already thought about a way to secure the lid when it's closed, so raccoons and other critters can't get it open. You might want to make the rear panel on the outside a drop down panel, for ease of cleaning the nests. Just open and scrape them out.
The next are for mice, and broody hens.
If you rig up some sort of outer pen with a door to open under the coop, you can put a few chickens in there from time to time, and they'll keep it clear of mice. This in turn, makes it less attractive to snakes. You may not have the trouble with mice we've had, because your floor will be solid, whereas ours has gaps between the boards. Over the years, all kinds of stuff, cedar shavings, straw, hay, feed, poop and dirt have fallen between the boards. This makes for a mighty inviting habitat for both rodents and snakes. (and bugs)
However, mice and snakes can burrow, and so you could have a problem develop anyway. It's protected, so mice would find it a safe haven. They'll bring in bedding on their own. Chickens will eat mice, (if they can catch them) and they'll scratch up mouse nests and eat the babies. Since we started making the space under to coop available to the birds, we've had no more mice. They used to over-run the place, I had to set traps in the coop all the time.
The last thing is some sort of separate area for broody hens. You can leave them in with then general population, but you'll have to make sure you mark the eggs, and remove new eggs daily, because the other hens will intrude and lay in the same nest. This also increases the risk of eggs being broken, if hens are arguing over the nest.
It's easy to relocate most broodies. You just wait until dark, move the eggs, move the broody hen to the eggs. It's dark, she'll stay on them all night. By morning, she'll probably be used to the idea that she's in a better place. Or maybe they forget by then, it's hard to tell. You can put multiple broodies in the same brooding area, but the more you get, the more likely trouble will eventually develop. But that's probably enough for now.
We have 2 runs off our coop, chicken wire on the inside, welded wire on the outside. Raccoons reaching through haven't been a problem, because the fences aren't anywhere near where the chickens roost at night. Our flock gets turned loose to roam free in the daytime, they go back in at night and we lock up the coop.
Here's some old pics from the last time I put anything on photobucket. We've made some changes since, and of course, we have all different chickens now, too.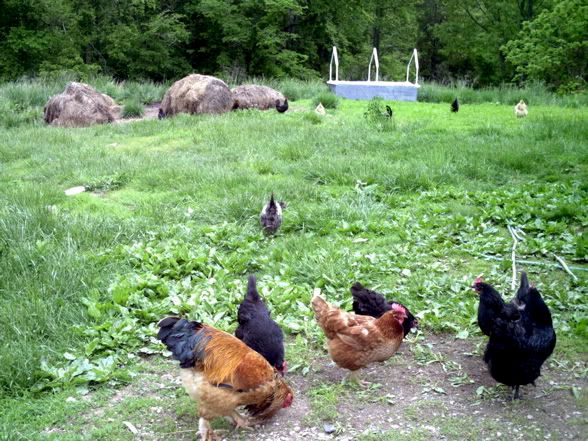 This is my idea of free-range.
The main room of the coop, small door out to an enclosed run in back.
You can see through the chicken wire, sort of, the Maternity Ward. When there are no broodies and new moms with babies, it's left open to all.
The coop as seen from behind our house, as it was a few years ago, we've made some changes.